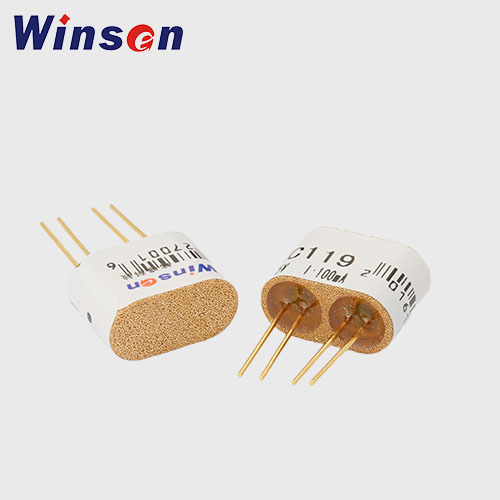 Target:
hydrogen, acetylene, gasoline, VOC such as alcohol, ketone, benzene.
Model:
MC119
Detection range:
0-100%LEL Anti-explosion Mark:ExdibⅠ
Detection principle:
catalytic combustion
Characteristics:
"Bridge output voltage in linear, fast response, good repeatability and selectivity "
Size:
19×9.5×14
Working conditions:
Working voltage:2.5±0.1V
Working current:100±10mA
Get Price
Whatsapp
Description
MC119 adopts catalytic combustion principle, and its two arms of electric bridge consists of a test element and a compensate element. The resistance of the test element rises once it meets the combustible gases, in the same time, the output voltage of the bridge changes and the voltage variation rises in direct proportion to the gas concentration. The compensate element, as a conference, has the function of compensating temperature and humidity.
Application
It is widely used in industrial occasion to detect the concentration of hydrogen, acetylene, gasoline, VOC such as alcohol, ketone, benzene.
Features
It has good sensitivity to methane in wide range, and has advantages such as long lifespan, low cost and simple drive circuit &etc. The bridge output is linear, quick response, good repeatability and selectivity, good stability, excellent resistance to the interference of H2S.

Specifications
Model
MC119
Sensor type
Catalytic
Standard encapsulation
Metal, Metallurgy powder mesh
Working voltage(V)
2.5±0.1
Working current (mA)
100±10
Sensitivity (mV)
1% H2
20~40
1% C2H2
40~90
Linearity
≤5%
Measuring range(%LEL)
0~100
Response time (90%)
≤10s
Recovery time (90%)
≤30s
Working environment
-40~+70℃, less than 95%RH
Storage environment
-25~+70℃, less than 95%RH
Size (mm)
19×9.5×14
Life span
2 years
Anti-explosion mark
ExdI Mb
* The description and specifications might be changed without notice. Please contact us for the latest information before placing orders.
Technical Support:
Winsen provides professional consultation and service before and after sales. We will recommend the best fitting sensor for your demand. If you have any problem, don't hesitate to email us to sales@winsensor.com
Due to high volume of daily incoming emails and time zone difference, we may not be able to reply your emails immediately. But we will reply to your inquiry in 24 business hours.
LEADING GAS SENSING SOLUTION SUPPLIER
RELATED PRODUCTS