CO2 concentration Vs. Indoor air quality
CO2 concentration is regarded as one of the most important indicators of air quality in buildings. Closed spaces have increased CO2 concentration than outdoor due to the lack of air exchange. Long stay in such places will cause feeling of dull, dizzy, headache and unable to concentrate. High concentration of CO2 will damage the body, lead to coma or even death. It can also be taken an indicator of air pollution from other possible harmful gases, virus, flu depending on different occasions. Indoor climate plays a key role in health protection, as pathogens remain in rooms for hours at typical air exchange rates in residential and office buildings. An increase in fresh air supply is recommended. The WHO also indicates that CO2 monitoring helps to reduce the Risk of Covid-19 Transmission Indoors.
The amount of CO2 in an air is expressed as parts per million (ppm) – the number of CO2 molecules per million molecules of air.
400 ppm: average outdoor air level.
Below 700ppm: the air is fresh, and people will feel comfortable.
700ppm to 1000ppm: the air is still normal although light polluted.In US standard.
1500ppm range is critical: the air is polluted with the concentration continue to increase, most people will feel uncomfortable.
2000 to 5000ppm: serious air condition and syndrome of headaches, dizzy, stuffy air, poor concentration, increased heart rate and slight nausea.
Above 5000ppm: this indicates unusual air conditions where high levels of other gases could also be present. Toxicity or oxygen deprivation could occur.
40,000 ppm: this level is immediately harmful due to oxygen deprivation.
How to detect CO2 levels?
At room temperature, carbon dioxide (CO2) is a colorless, odorless, non-flammable gas. Detection technologies of sensors are used to monitor CO2 levels at the human presence sites. The most common principles are NDIR non-dispersive infrared and chemical gas sensors. Chemical CO2 gas sensors have the principal advantage of very low energy consumption, but short and long term drift effects, rather low overall lifetime, are major obstacles when compared with the NDIR measurement principle.
NDIR CO2 gas sensors are spectroscopic sensors to detect CO2 by its characteristic absorption. The key elements are a infrared light source, an interference (wavelength) filter, and an infrared detector. The gas is pumped or diffuses into the light tube, absorption of the characteristic wavelength of light is measured.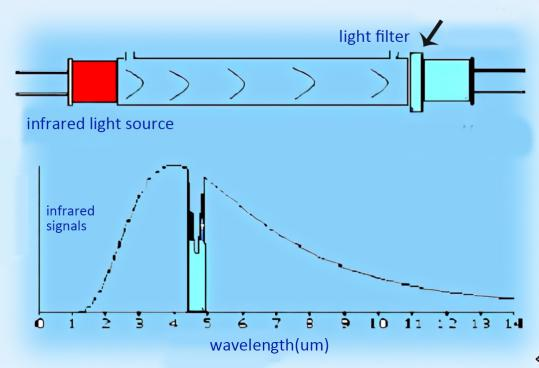 NDIR sensors are most often used for measuring carbon dioxide due to its high sensitivity and accuracy, stable performance, long life span and affordable cost. However, the light source decline as working time increasing. Winsen has dual channel design that have two rows of elements, will compensate the decline of light source, and realize automatic calibration. To fit different occasions and requirement, Winsen developed CO2 sensors of super low power consumption, improved accuracy, economic cost, optional measurement range for varying demands(to be found in below applications).
Help you compare our sensors
Table Overview for Winsen CO2 sensor
Unsure which sensor to choose, please leave your information or email us sales@winsensor.com
Winsen CO2 sensor series
Model
MH-Z14A
MH-Z19C
MH-Z19D
MH-V1512A
MH-Z14B
MH-Z16
MH-Z1311A
MH-Z1911A
MH-711A
MH-712B
MH-410D
Picture
Detection Gas
CO2
Working voltage
DC(5.0±0.1)V
DC(5.0±0.1)V
4.5~5.5V DC
4.5~5.5 V DC
3.6~5VDC①
Average current
< 40 mA ③
<60mA ③
<85mA③
150uA③
<30mA③
<100 mA
<100 mA
<85mA
Peak current
125mA③
150mA ③
150mA③
90mA③
125mA③
/
/
/
Interface level
3.3 V④
3.3V④
3.3V④
3.3 V④
3.3 V④
3.3 V
3.3 V
3.0V
Detection Range
400~10000ppm⑤
0~10000ppm⑥
0~50000ppm⑦
0~10000ppm⑤
400~10000ppm⑤
0~5% Vol⑤
0~5% Vol⑤
0~10%Vol⑤
Output signal
Serial Port (UART) (TTL level 3.3V)
IIC/UART
UART
UART
PWM
0.4~2 V
0.4~2 V
0.4~2V②
Preheat time
1min
1min
1min
10S
10S
10S
10s
1min
3 min
<2min
3min
Response Time
T90<120s
T90<120s
T90<120s
T90 < 60s
T90<90s
T90<30s
T90 < 60 s
T90<120s
T90<30 s
T90<30 s
T90<30s
Working temp.
-10℃~50℃
-10℃~50℃
0℃~50℃
-30℃~85℃
-10℃~50℃
-10℃~50℃
-10~50 ℃
-10~50 ℃
-40~70 ℃
-40~70 ℃
-20~60 ℃
Working humidity
0~95%RH(no condensation)
Dimension (mm)
58*35*15
33*20*9
33*20*9
33*22*12
58*35*15
97*20*17
33*20*12
Φ44 ×61
Φ39×44
Φ20×22.6
Weight
14g
5g
5g
7 g
<15g
<21g
5 g
5 g
350 g
280 g
35g
Lifespan
>10years
>10years
>5years
>10years
>10years
>10years
> 15years
>10years
>5years
>5years
>5years
Protection level
/
/
/
/
/
/
/
/
IP65
IP54
IP54
Precision
±(50ppm+5%读数)
Application
Smart home; Air quality monitoring equipment; Fresh air system; Air purifier; IAQ
Vehicle
Agricultural greenhouse
School; Laboratory
HVAC;
IAQ
HVAC;
IAQ
Industry
Industry
Industry
Remark
① Power supply from safety grids
② Need to pass the safety grid output
③ @5V supply
④ 5V compatible
⑤ optional
⑥ max 50000ppm can be extended
⑦ max 150000ppm can be extended
ARE YOU LOOKING FOR SENSOR
Not sure which sensor is right?
Get a free initial consultation right now