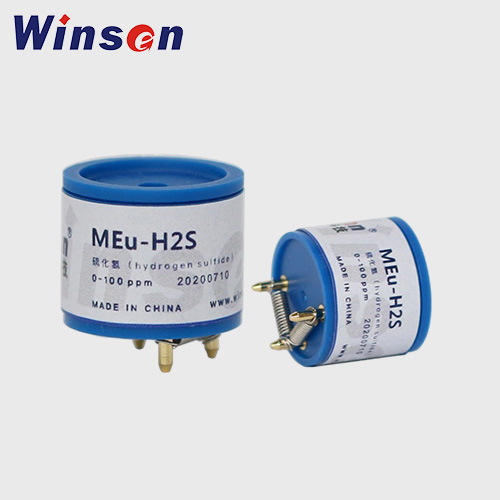 | | |
| --- | --- |
| Target: | Hydrogen Sulfide(H2S) |
| Model: | MEu-H2S |
| Detection range: | 0~100ppm |
| Detection principle: | Electrochemical |
| Characteristics: | Excellent repeatability and stability |
| Response time: | <15S |
---
MEu-H2S Manual download
---
Get Price
Whatsapp
Description
The MEu-H2S sensor is a fuel cell sensor. Hydrogen Sulfide and oxygen undergo a corresponding oxidation-reduction reaction on the working electrode and counter electrode and release charges to form a current. The current generated is proportional to the concentration of Hydrogen Sulfide and follows Faraday's law. The size can determine the concentration of Hydrogen Sulfide.
Application
Hazardous/Odor Gas detection in industrial and environmental fields.
Portable Hydrogen Sulfide H2S detection instrument
Fixed point Hydrogen Sulfide detector
Features
Excellent repeatability and stability
Specifications
| | |
| --- | --- |
| Item | Parameter |
| Detection gas | Hydrogen Sulfide(H2S) |
| Measurement Range | 0~100ppm |
| MaxRange | 500ppm |
| Sensitivity | (45±15)nA/ppm |
| Response time(T90) | <15S |
| Zero point output (in clean air) | <±2ppm(Equivalent CO) |
| Zero drift(-40℃~﹢50℃) | <﹢10ppm(Equivalent CO) |
| Repeatability | <±2% output value |
| Linearity | Within±5% |
| Stability (Average decay/month) | <2% |
* The description and specifications might be changed without notice. Please contact us for the latest information before placing orders.
Technical Support:
Winsen provides professional consultation and service before and after sales. We will recommend the best fitting sensor for your demand. If you have any problem, don't hesitate to email us to sales@winsensor.com
Due to high volume of daily incoming emails and time zone difference, we may not be able to reply your emails immediately. But we will reply to your inquiry in 24 business hours.
LEADING GAS SENSING SOLUTION SUPPLIER
RELATED PRODUCTS