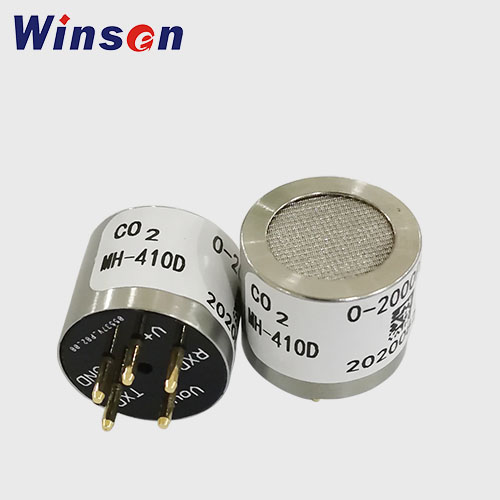 Target:
CO2
Model:
MH-410D
Detection range:
0~10% Vol optional
Detection principle:
non-dispersive infrared (NDIR) principle
Characteristics:
1. High sensitivity, high resolution, low power consumption, Fast response time; 2. Output method: UART, analog voltage signal; 3.Temperature compensation, excellent linear output; 4. Long lifespan;5. Excellent stability;6. Anti-poisons, anti-vapor interf
Size:
Φ20 mm×22.6 mm
Working conditions:
3.6~5 V DC(Need to be powered by safety barrier)
Measurement range:
0~2000 ppm
0~6000 ppm
0~1% Vol
0~3% Vol
0~5% Vol
Resolution and accuracy:
±(50ppm+5% reading value)
Response time:
T90 < 30 s
---
MH-410D Manual download
---
Get Price
Whatsapp
Description
MH-410D infrared gas sensor is a miniature universal intelligent sensor, which adopts NDIR theory to detect concentration of CO2 in air and has good selectivity, stable performance, long life, also is independent of Oxygen. The inside temperature sensor could be used for temperature compensation. This miniature infrared gas sensor is developed by the tight integration of mature infrared absorbing gas detection technology, micro machine workout and superior circuit design.
Application
Widely used for HVAC refrigeration, industrial-process control and safety protection,agriculture and animal husbandry.
Features
High sensitivity, high resolution, low power consumption, fast response time
Output method: UART, analog voltage signal
Temperature compensation, excellent linear output
Long lifespan, excellent stability, anti-poisons, anti-vapor interference
Specifications
Fig1 Main Parameters
Model
MH-410D
Detection gas
CO2
Working Voltage
3.6~5VDC (Need to be powered by safety barrier)
Average Current
<85mA
Interface Level
3.0V
Detection range
0-10%volOptional (refer Fig2.)
Output Signal
UART
0.4~2V (Need to be powered by safety barrier)
Warm-up Time
3 min
Response Time
T90<30s
Working Temperature
-20°C ~60°C
Working Humidity
0~95%RH (no condensation)
Sizes
Φ20x22.6mm
Weight
35g
Life Time
>5 years
Defense Grade
IP54
Power, communication terminal Intrinsic safety
Ui=7.5VDC,Ii=265mA, Pi=0.5W,Ci=10μF,Li=0mH
Fig2. Measuring Range and Resolution
Target Gas
Measuring Range
Accuracy
Note
CO2
0~2000 ppm
±(50ppm + 5% of Read Value)
Temperature compensation
0~6000 ppm
Temperature compensation
0~1% VOL
Temperature compensation
0~3% VOL
Temperature compensation
0~5%VOL
Temperature compensation
* The description and specifications might be changed without notice. Please contact us for the latest information before placing orders.
Technical Support:
Winsen provides professional consultation and service before and after sales. We will recommend the best fitting sensor for your demand. If you have any problem, don't hesitate to email us to sales@winsensor.com
Due to high volume of daily incoming emails and time zone difference, we may not be able to reply your emails immediately. But we will reply to your inquiry in 24 business hours.
LEADING GAS SENSING SOLUTION SUPPLIER
RELATED PRODUCTS