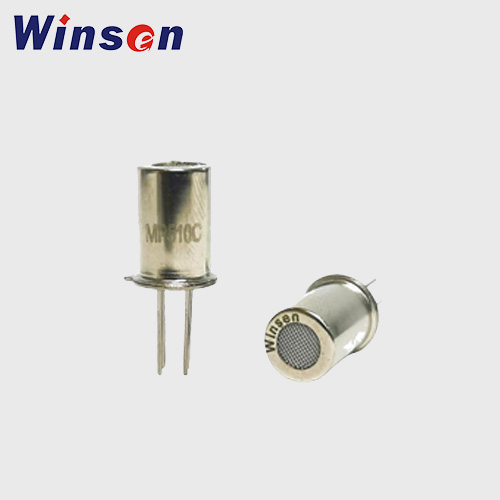 | | |
| --- | --- |
| Target: | refrigerant gases:R32、R134a、R410a、R290 |
| Model: | MP510C |
| Detection range: | 100-10000ppm |
| Detection principle: | Semiconductor |
| Characteristics: | Can detect kinds of refrigerant gases |
| Size: | φ9.05×12.5 |
| Working conditions: | Loop Voltage:5±0.1V Heater Voltage:5±0.1V Heater consumption:≤300mW |
---
MP510C Manual download
---
Get Price
Whatsapp
Description
The MP510C Freon gas sensor uses a multilayer thick film manufacturing process to fabricate heating and measuring electrodes and a metal oxide semiconductor gas-sensitive layer on a miniature Al2O3 ceramic substrate, and encapsulate it in a metal casing. When the detected gas exists in the ambient air, the conductivity of the sensor changes. The higher the concentration of the gas, the higher the conductivity of the sensor. This change in conductivity is converted into an output signal corresponding to the gas concentration through the circuit. The product has good anti-interference ability against common gases such as alcohol and acetic acid in usage scenarios.
Application
Used for leak detection of refrigerants in air conditioning and refrigeration systems
Features
High selectivity, fast response, good anti-interference, long lifespan, good stability
Can detect kinds of refrigerant gases R32, R134a,R410a,R290.
Specifications
Model
MP510C
Sensor Type
Semiconductor flat surfaced sensor
Standard Encapsulation
Metal Cap
Detection Gas
Refrigerant gas
Detection range
100~10000ppm
Standard circuit
Loop voltage
VC
5.0V±0.1V DC
Heating voltage
VH
5.0V±0.1V DC
Load resistance
RL
Adjustable
sensor features in standard test condition
Heating consumption
PH
≤300mW
Surface resistance
RS
0.5~10KΩ(in 5000ppm R32)
Sensitivity
S
0.3~0.7 (R32) Rs(in 9000ppm)/Rs(in 3000ppm)
Standard condition of test
Temperature, humidity
20℃±2℃;65%±5%RH
Standard test circuit
Vc:5.0V±0.1V; VH:5.0V±0.1V
Warm-up time
7 days
* The description and specifications might be changed without notice. Please contact us for the latest information before placing orders.
Technical Support:
Winsen provides professional consultation and service before and after sales. We will recommend the best fitting sensor for your demand. If you have any problem, don't hesitate to email us to sales@winsensor.com
Due to high volume of daily incoming emails and time zone difference, we may not be able to reply your emails immediately. But we will reply to your inquiry in 24 business hours.
LEADING GAS SENSING SOLUTION SUPPLIER
RELATED PRODUCTS