ZC02 CH4 Methane Gas Sensor Module for Mine Use
ZC02 CH4 Methane Gas Sensor Module for Mine Use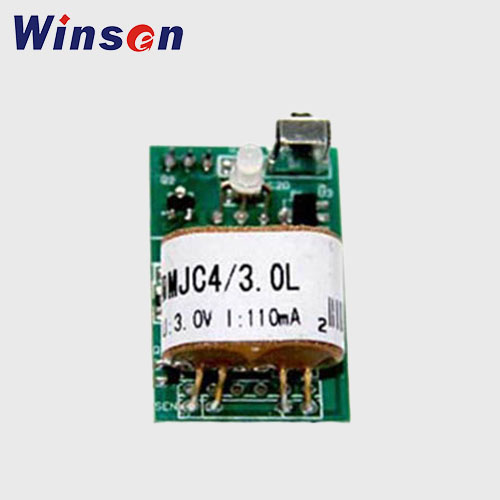 Description
This ZC02 Module adopts high-stability catalytic gas sensor, high-performance micro-computer processor, and infrared remote adjustment mode, which makes the module with high reliability and simple debugging. Besides, this module have sensor breakdown warning and zero calibration limit functions, avoiding module continuous alarm or no alarm because of the broken sensor. When the methane concentration in air gets higher than the alarm point, it will control the mining lamp to flicker, to remind the workers to ventilate or evacuate timely. When the methane concentration declines to normal point, it will control the mining light recovery the normal lighting status, so that the personnel and property safety is assured and unnecessary loss is avoided.
Application
Methane alarm mine lamp, industrial flammable gas leakage detector
Features
Environment temperature: (0-35)℃
Environment humidity: ≤98%RH
Atmosphere: (80-110)Kpa
H2S content limit: ≤6ppm
Specifications
Parameters
Unit
Value
NOTE
nominal voltage
V
3.1-5.0
nominal working current
mA
100±10
nominal control voltage
mA
≤110
Alarm point
vol
1.0%
Preset before leaving factory
Alarm error
≤0.1%
CH4 content (0.5-1.0%)
Zero stability
±0.1%CH4
Max zero drift every week
Response time
s
≤20
Flick Frequency
Hz
1±0.2
Rate in air 1:1, CH4 content.0%
2±0.2
Rate in air1:1, CH4content >1.2%
* The description and specifications might be changed without notice. Please contact us for the latest information before placing orders.
Technical Support:
Winsen provides professional consultation and service before and after sales. We will recommend the best fitting sensor for your demand. If you have any problem, don't hesitate to email us to sales@winsensor.com
Due to high volume of daily incoming emails and time zone difference, we may not be able to reply your emails immediately. But we will reply to your inquiry in 24 business hours.
LEADING GAS SENSING SOLUTION SUPPLIER
RELATED PRODUCTS