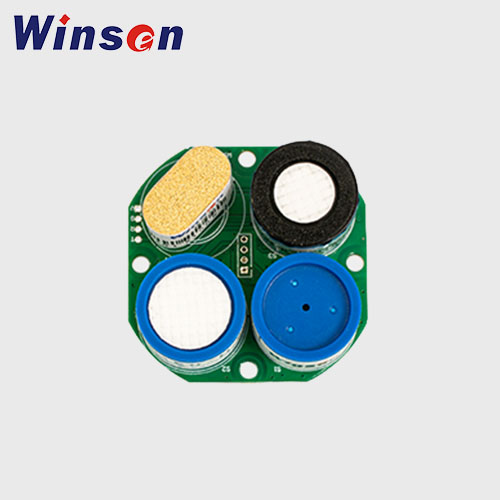 Target:
CH4(1%LEL), CO(1ppm), H2S(1ppm), O2(0.1%LEL)
Model:
ZCE04B
Detection range:
0-100%LEL ,0-1000ppm ,0-100ppm ,0-30%LEL
Detection principle:
Module,catalytic, electrochemical
Characteristics:
The detection of toxic and harmful gas and combustible gas in special places will give an alarm when the concentration exceeds the standard to remind people to evacuate
Size:
41×41×21.6
Working conditions:
Working voltage :3.5-5V
Response time:<30s
Working current:<100mA
Output :UART(2.8V level)
---
ZCE04B Manual download
---
Get Price
Whatsapp
Description
The 4-in-1 detection module ZCE04B is mainly aimed at various places where ambient gas detection is required. The product contains four gas sensors (expandable for CO, H2S, O2 and CH4 gases) and a signal processing circuit board. The module has good selectivity and stability. The module can output the current concentration values of the four gases in real time through the digital serial port output. It can be used in handheld devices or fixed devices to detect the current concentration of ambient gas. This module is a general-purpose miniaturized product that closely combines mature sensor detection technology and sophisticated circuit design.
Application
It can be used in the environment of factory gas leakage, underground operation, tunnel detection, coal mine detection and so on. It can be worn by human body or hand-held into the detection place, or it can be used in fixed place to detect the current environmental gas concentration and remind
personnel to be safe.
Features
High integration, small size,
Good stability and fast response
Real-time serial port output concentration, easy to use
Specifications
| | |
| --- | --- |
| Model No. | ZCE04B |
| Detection gas | CO: 0-1000ppm H2S: 0-100ppm O2: 0-30%vol CH4: 0-100%LEL |
| Resolution | CO: 1ppm H2S: 1ppm O2: 0.1%vol CH4: 1%LEL |
| Working Voltage | 3.5-5V |
| Working Current | <100mA |
| Response Time | <30s |
| Output Way | UART (2.8V level) |
| Working Conditions | -20~50℃,15~90%RH |
| Storage Temperature | 0~20℃ (recommended) |
| Expected Life span | 2 years (in clean air) |
* The description and specifications might be changed without notice. Please contact us for the latest information before placing orders.
Technical Support:
Winsen provides professional consultation and service before and after sales. We will recommend the best fitting sensor for your demand. If you have any problem, don't hesitate to email us to sales@winsensor.com
Due to high volume of daily incoming emails and time zone difference, we may not be able to reply your emails immediately. But we will reply to your inquiry in 24 business hours.
LEADING GAS SENSING SOLUTION SUPPLIER
RELATED PRODUCTS