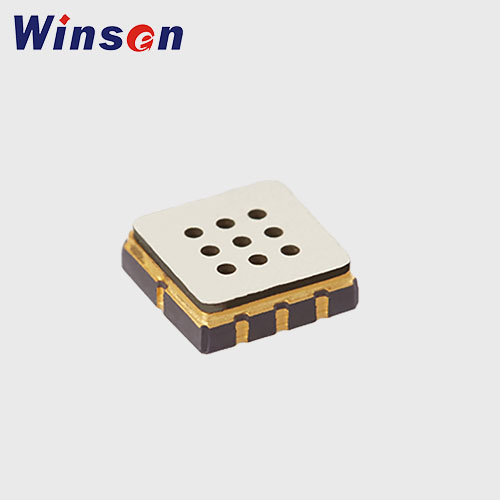 Target:
Alcohol
Model:
ZM03
Detection range:
0-50ppm
Detection principle:
Module,semiconductor, MEMS
Characteristics:
High sensitivity and small size, and adopts I2C digital signal output mode
Size:
5×5×1.55
Working conditions:
Working voltage :2.5±0.1V
Working current:≤25mA
Heating power:≤80mW
Notes:
Output: I2C slave mode, speed 10-100kbps, default address: 0x55
Get Price
Whatsapp
Description
The digital alcohol module is a low-power, miniaturized module. The module uses a combination of a semiconductor gas sensor and a high-performance microprocessor to detect the gas concentration in the environment. The module has high sensitivity, small size and precision, and adopts I2C digital signal output mode, which is convenient for users to use and debug, and greatly shorten the user's design and development cycle. The module can be widely used in many fields such as environmental safety and portable instruments.
Application
Portable instrument
Industrial and mining safety
medical hygiene
On-site control
Features
MEMS technology
Ultra-low power consumption
Stable and reliable
High sensitivity
Anti - electromagnetic interference
Specifications
| | | | |
| --- | --- | --- | --- |
| Working Voltage | 2.5±0.1V | Working Current | ≤25mA |
| Heater Current | 80mW | Detect Range | 50ppm(alcohol ) |
| Output Method | I2C slave mode | Default Address | 0x55 |
| I2C Rate | 10-100kbps | Pull-up Resistor | Requires external pull-up resistor |
| Working Temperature | ≤3min | Response Time | ≤60S |
* The description and specifications might be changed without notice. Please contact us for the latest information before placing orders.
Technical Support:
Winsen provides professional consultation and service before and after sales. We will recommend the best fitting sensor for your demand. If you have any problem, don't hesitate to email us to sales@winsensor.com
Due to high volume of daily incoming emails and time zone difference, we may not be able to reply your emails immediately. But we will reply to your inquiry in 24 business hours.
LEADING GAS SENSING SOLUTION SUPPLIER
RELATED PRODUCTS