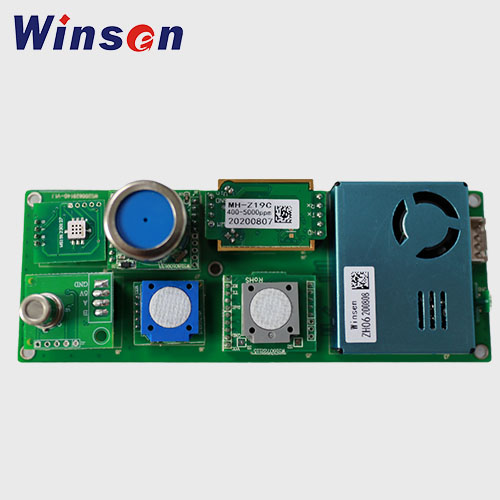 | | |
| --- | --- |
| Target: | CO2. PM2.5. CH2O. O3. CO. TVOC. NO2. Temperature. Humidity |
| Model: | ZPHS01B |
| Detection range: | See Manul |
| Detection principle: | Module |
| Characteristics: | See Manul |
| Size: | 135 x 50 x 26.2mm (L x W x H) |
---
ZPHS01B Manual download
---
Get Price
Whatsapp
Description
ZPHS01B is a multi-in-one air quality module, integrating laser dust sensor, infrared carbon dioxide sensor, electrochemical formaldehyde sensor, electrochemical ozone sensor, electrochemical carbon monoxide sensor, VOC sensor, NO2 sensor and temperature and humidity sensor. It can accurately measure the concentration of various gases in the air, with UART (TTL level) communication interface.
Application
Gas detector
Air conditioner
Air quality monitoring
Air purifier
HVAC system
Smart home
Features
Specifications
Model
ZPHS01B
Target Gas
CO2.PM2.5.CH2O. O3. CO.TVOC. NO2.Temperature.Humidity
Working voltage
5V (DC)
Average Current
<300 mA
Peak Current
<500 mA
Physical interface
XH2.54-4P
Interface level
3V(compatible with 3.3V)
Output signal
UART (TTL)
PM2.5
Range
0~1000μg/m3
Particle size range
0.3-10μm(PM1.0, PM2.5, PM10)
Accuracy
±15 ug/m3(when concentration is≤100ug/m3); ±15% (when concentration is >100ug/m3)
Response time
T90 < 45s
Sampling method
Fan extraction
MTTF
Continuous uninterrupted > 10000h
CO2
Range
0~5000 ppm
Accuracy
±(50ppm+5% of reading value)
Warm-up time
3min
Response time
T90 < 120s
Sampling method
Diffuse
Lifespan
> 5 years
CH2O
range
0~6.250 mg/m3
accuracy
± 0.03 mg/m3(when concentration is≤0.2mg/m3); ± 20% reading value (when concentration is >0.2mg/m3)
Warm-up
≤ 3min
Response time
≤ 60s
Recovery time
≤ 60s
Sampling method
Diffuse
Life span
5 years (18~25℃in clean air)
TVOC
Range
0~3 grades
Warm-up
≤3min
Response time
≤20s
Recovery time
≤60s
Sampling method
Diffuse
Sensitivity attenuation
≤1% /year
O3
Range
0~10 ppm
Resolution
0.01 ppm
Accuracy
± 0.1ppm, when the concentration is≤1ppm; ±20% full range, when the concentration is over 1ppm;
Warm-up
≤3min
Response time
≤90s
Recovery time
≤90s
Sampling method
Diffuse
Life span
2 years(18~25℃in clean air)
CO
Range
0~500 ppm
Resolution
0.1 ppm
Accuracy
± 10% reading value
Warm-up
≤30s
Response time
≤30s
Recovery time
≤30s
Sampling method
Diffuse
Life span
3~5 years (in air)
NO2
Range
0.1~10 ppm
Resolution
0.05ppm
Warm-up
≤3min
Response time
≤120s
Recovery time
≤90s
Temperature
Range
-20~65℃
Accuracy
±0.5℃(0-65℃)
Humidity
Range
0~100%RH
Accuracy
±3%RH
Working temperature
-10~50℃
Working humidity
15~80% RH(no condensing)
Storage temperature(recommend)
0~25℃
Storage humidity (recommend)
0~80% RH
Dimensions
135 x50 x 26.2mm (L x W x H)
* The description and specifications might be changed without notice. Please contact us for the latest information before placing orders.
Technical Support:
Winsen provides professional consultation and service before and after sales. We will recommend the best fitting sensor for your demand. If you have any problem, don't hesitate to email us to sales@winsensor.com
Due to high volume of daily incoming emails and time zone difference, we may not be able to reply your emails immediately. But we will reply to your inquiry in 24 business hours.
LEADING GAS SENSING SOLUTION SUPPLIER
RELATED PRODUCTS