RDB226S Digital PIR Pyroelectric Infrared Sensor
RDB226S Digital PIR Pyroelectric Infrared Sensor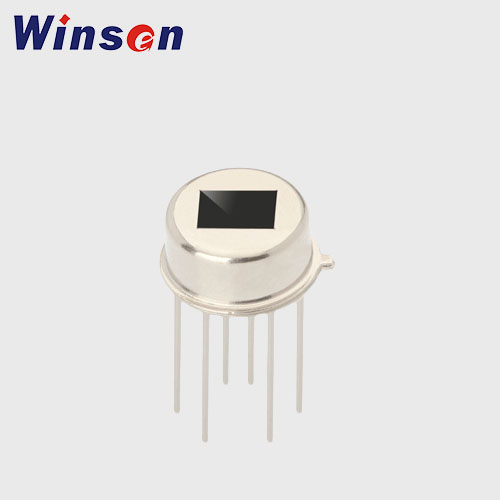 | | |
| --- | --- |
| Target: | human body induction |
| Model: | RDB226S |
| Detection principle: | pyroelectric effect |
| Characteristics: | Sensitivity, delay time, and light adjustment function |
| Size: | TO-5 9.1x4.5mm |
| Working conditions: | Working voltage:1.8-4.5V |
| Receiving wavelength: | 5-14um |
---
RDB226S Manual download
---
Get Price
Whatsapp
Description
Digital PIR sensor RDB226S, is an integrated design of sensitive element and signal processing chip, packaged sensitive element and IC chip into sensor shield. Sensitive element transfer the human movement signal to high-precision digital chip for data processing. Then the sensor gives digital signal for easy using.
Application
Security product
Human body induction toys
Human body induction lamps, lighting and switches
Industrial automation control
Smart home, smart building
IoT terminals
Intelligent appliances
Features
High-precision AD signal process
Differential signal input mode, anti-interference ability
Sensitivity, delay time, and light adjustment function
Enable pin controls the sensor output
Wide voltage power supply(1.8~4.5V) and power consumption
Digital TTL signal output
Specifications
1.Working condition(T=25℃)
Parameter
Symbol
Min
Typical
Max
Unit
Note
Working condition
Voltage
VDD
1.8
3.0
4.5
V
Power supply mode
Current
IDD
10
uA
10uA @3V@25℃
Sensitivity
VSENS
104
515
uV
Storage temperature
Tst
-40
125
℃
WorkingTemperature
Twk
-25
85
℃
ONTIME&SENS&OEN
SENS, ONTIME Input
0
VDD
SENS, ONTIME Input Current
20
nA
Pull-down current
OEN Input Low LEL
VIL_OEN
0.6
V
OEN Input High LEL
VIH_OEN
1.2
V
Output Pin(REL)
Output drive current
IREL
-5
5
mA
Block time
1.0
2.0
3.0
S
Delay time
ONTIME
1
3600
S
16 levels of adjustment
2. Internal frame
* The description and specifications might be changed without notice. Please contact us for the latest information before placing orders.
Technical Support:
Winsen provides professional consultation and service before and after sales. We will recommend the best fitting sensor for your demand. If you have any problem, don't hesitate to email us to sales@winsensor.com
Due to high volume of daily incoming emails and time zone difference, we may not be able to reply your emails immediately. But we will reply to your inquiry in 24 business hours.
LEADING GAS SENSING SOLUTION SUPPLIER
RELATED PRODUCTS