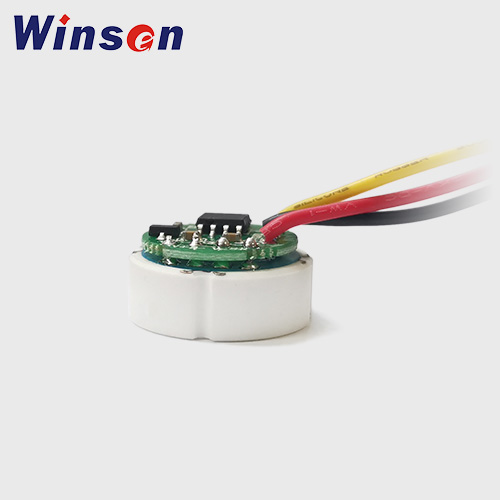 | | |
| --- | --- |
| Model: | WPBH01 |
| Detection principle: | Piezoresistive |
| Characteristics: | Ceramic sensitive film with high overload capacity,Laser calibration for zero and full scale |
| Size: | φ18.0×11.8 mm |
| Response time: | <1mS |
| Pressure Range: | 2bar—400bar |
| Working Temperature: | -20~125℃ |
| Diaphragm material: | Ceramic |
Get Price
Whatsapp
Description
The WPBH01 ceramic pressure sensor module is a voltage output type of pressure transmission module, there is no shell of the ceramic pressure transmitter. This product is made of refined ceramic seat ceramic piezo resistive pressure sensor, using precision conditioning chip on the sensor offset, sensitivity, temperature drift and other compensation. With high integration, small size, high precision, good consistency, anti-interference ability, response speed block, wide temperature range and other characteristics.
Application
WPBH01 ceramic pressure sensors are widely used in: process control, environmental control, hydraulic and pneumatic equipment, servo valves and transmission, chemical and chemical industry and medical instruments and many other fields.
Now, high-performance and low-cost ceramic sensor is the direction of development of pressure sensors with the trend of replacing other type sensors in Europe and the United States. In China, more and more users choose ceramic sensors instead of strain and diffusion Silicon pressure sensor.
Features
Ceramic sensitive film with high overload capacity
Laser calibration for zero and full scale
Excellent corrosion resistance, wear resistance
Impact resistance, anti-vibration
High precision, good stability
Wide operating temperature range
Small size, easy to package
Environmental protection
Specifications
| | | |
| --- | --- | --- |
| Item | parameter | Mark |
| Size | φ18.0×11.8 mm | |
| Range | 2bar—400bar | customizable |
| Power Voltage | 5VDC | customizable |
| Output | Proportional voltage output、0.5~4.5V | Standard signal output, customizable |
| Comprehensive accuracy | 0.5% 1% 2% 3% | default2% |
| Compensation temperature | 0~65℃ -10~85℃ | Default 0-65℃ |
| Working temperature | -20~125℃ | |
| Response time | <1mS | |
| Working current | <1.5mA | |
* The description and specifications might be changed without notice. Please contact us for the latest information before placing orders.
Technical Support:
Winsen provides professional consultation and service before and after sales. We will recommend the best fitting sensor for your demand. If you have any problem, don't hesitate to email us to sales@winsensor.com
Due to high volume of daily incoming emails and time zone difference, we may not be able to reply your emails immediately. But we will reply to your inquiry in 24 business hours.
LEADING GAS SENSING SOLUTION SUPPLIER
RELATED PRODUCTS