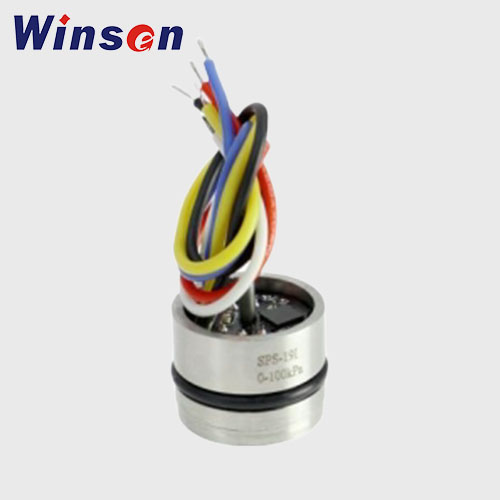 | | |
| --- | --- |
| Model: | WPCK03 |
| Detection principle: | Diffused Silicon |
| Output signal: | I²C(Pressure/Temperature)、4-20mA、 0.5-4.5V and others |
| Resolution and accuracy: | ±0.2%FS, ±0.5%FS |
| Response time: | ≤1ms |
| Pressure Range: | -100kPa~0~10kPa…100MPa |
| Pressure Reference: | Gauge Pressure/Absolute Pressure/Sealed Gauge Pressure |
| Working Temperature: | -40~80℃ |
| Diaphragm material: | SS 316L |
Get Price
Whatsapp
Description
WPCK03 series diffused silicon pressure sensor is a pressure transmitter integrated with high-precision imported diffused silicon pressure sensitive chip and packaged with mature production process sensor as a signal measuring element, integrates highly reliable signal processing circuit and wide temperature compensation. At the same time, this product has undergone strict testing and screening of components, semi-finished products and finished products, which maintain high precision standard signal output at different temperatures. The product has excellent reliability, flexibility and diversity, it's widely used in pressure measurement and monitoring of water affairs, IoT, chemical industry, petroleum and other industries. This product has multi output methods, which can meet different technical requirements of customers in different applications. Our company can customize pressure transmitters with different appearances and functions according to customer requirements to provide customers with more reliable solutions.
Application
Process control system
Pressure calibration instrument
Hydraulic system
Biomedical instruments
Hydraulic system and valve
Liquid level measurement
Military equipment
Refrigeration equipment and HAVC system
Ships and navigation
Pipeline pressure monitoring
Features
Stainless steel d4sturcture
Wide temperature compensation-10~+70℃
Multi output methods
Excellent anti-interference ability
High reliability
Hi Accuracy
Low consumption
Specifications
BasicParameter Index
Pressure range
-100kPa~0~10kPa…100MPa
PressureReference
GaugePressure/AbsolutePressure/Sealed Gauge Pressure
Power supply
3.3V-5.5VDC (Or others)
Working Current
<3mADC
Output
I²C(Pressure/Temperature)、4-20mA、 0.5-4.5V and others
Accuracy
±0.2%FS, ±0.5%FS
Can be customized
Low Consumption
Standby current<100nA
Temperature Error
±2℃
Only forI²C mode
Pressure Error
±0.25%FS
Only forI²C mode
input resistance
≤(U-12)/0.02Ω(2-wire system)、 ≥10k(3-wire system)
Only for analogue signal mode
Overload
1.5 or 2.0 times full scale
TemperatureCompensation
-10~70℃
Working Temperature
-40~80℃
Storage Temperature
-25~85℃
VibrationResistance
10gRMS,20~2000Hz
Shock Resistance
100g, 11ms
Sealing
FKM
Housing material
316L
Diaphragm Material
316L
Plug
StandardPH2.0-5P
Reverse polarity protection
Yes
In voltage output mode power supply and output cannot be reversed
* The description and specifications might be changed without notice. Please contact us for the latest information before placing orders.
Technical Support:
Winsen provides professional consultation and service before and after sales. We will recommend the best fitting sensor for your demand. If you have any problem, don't hesitate to email us to sales@winsensor.com
Due to high volume of daily incoming emails and time zone difference, we may not be able to reply your emails immediately. But we will reply to your inquiry in 24 business hours.
LEADING GAS SENSING SOLUTION SUPPLIER
RELATED PRODUCTS