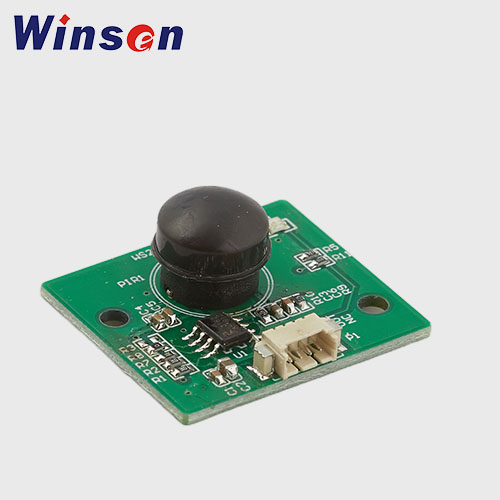 | | |
| --- | --- |
| Target: | Induction signal |
| Model: | ZRD16 |
| Detection principle: | pyroelectric effect |
| Characteristics: | 1、Automatic Induction;2、Photo-resistor control;3、Induction blocking time(default setting as 2s second);4、 High-level output |
| Size: | 32mm*28mm*12.3mm |
| Working conditions: | |
| Receiving wavelength: | 5-14um |
Get Price
Whatsapp
Description
ZRD16 Pyroelectric infrared sensor module adopts high performance PIR sensor and Pyroelectric dedicated LDO chip. It has the features, as low static power consumption, wide operating voltage, and high sensitivity. This module can be triggered repeatedly. If it's detected again during sensing output delay time, the delay period will be recalculated.
Application
Air conditioners, smart fans, smart door locks
Security products,
Human body induction toys, Human body induction lamps, switches, and appliances
Features
Automatic Induction (when people enter into its sensing area, it gives an high-level output; when people leave the sensing area, it closes high-level output by 1s automatic-delay, and gives an low-level output.)
Photo-resistor control:
This module has no photosensitive control function,
And it detects the whole day.
Repeatable trigger mode: after high-level output, on the delay period, if there is human activity in its sensing range, the output remain high-level, and will not convert from high-level to low-level until people leave and the delay period is over. (when the sensor module detects every human body activity, it extend a delay period automatically, and use the last activity time as the starting time of delay period.)
Induction blocking time(default setting as 2s second): after every sensing output(from high-level to low-level output), a blocking time can be set. At this period, the sensor does not receive any sensor signal. By this function, it can realize interval working, to be applied to interval detection production. At the same time, this feature can inhibit all kinds of interference generated by the switching of load.
High-level output: TTL output, easy to interface with kinds of circuits;
Specifications
| | |
| --- | --- |
| Working Voltage | 3.3~12V DC |
| Static Current | 10µA, @3.3V @25℃ |
| Level Output | High Level, 3V; Low Level, 0V |
| Trigger Mode | Repeatable |
| Blocking Time | 2S (fixed) |
| PCB Size | 32×28×12.3mm |
| Detection Angle | 100°(Depend on the Lens) |
| Working Temperature | -10℃ ~ +70℃ |
| Fresnel Lens Size | Diameter12.6mm |
| Detection Distance | >2m @25℃ |
* The description and specifications might be changed without notice. Please contact us for the latest information before placing orders.
Technical Support:
Winsen provides professional consultation and service before and after sales. We will recommend the best fitting sensor for your demand. If you have any problem, don't hesitate to email us to sales@winsensor.com
Due to high volume of daily incoming emails and time zone difference, we may not be able to reply your emails immediately. But we will reply to your inquiry in 24 business hours.
LEADING GAS SENSING SOLUTION SUPPLIER
RELATED PRODUCTS