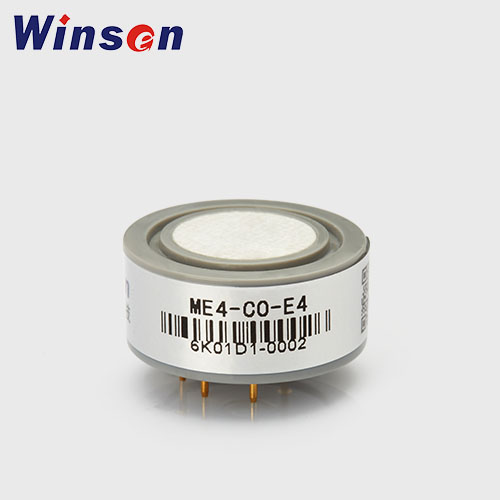 Target:
CO
Model:
ME4-CO-E4
Detection range:
0-1000ppm, Max 2000ppm
Detection principle:
Electrochemical
Characteristics:
Urban atmosphere and enterprise environmental monitoring, unorganized emission pollution gas monitoring in factories, emergency monitoring, environmental assessment and monitoring
Size:
φ32×14.5
Working conditions:
Resolution ratio <10ppb
Response time<30s
Anticipated using life 2 years
---
ME4-CO-E4 Manual download
---
Get Price
Whatsapp
Description
ME4-CO-E4 carbon monoxide gas sensor is constant potential electrolysis type. Oxidation-reduction reaction with carbon monoxide and oxygen take place respectively on the working electrode and on the counter electrode. The process releases electric charge and generates current. The current is in direct proportion to the concentration of carbon monoxide. So the concentration of the target gas could be got by measuring the value of current. The 4th electrode (auxiliary electrode) is used to compensate the zero current, to make it has the characteristics of strong signal level and low zero current.
Application
Urban atmospheric monitoring, enterprise environmental monitoring, emission gas monitoring, emergency environmental monitoring, and environmental evaluate monitoring.
Features
High precision
High sensitivity
Short response time
Good anti-interference ability
High resolution
Wide linear range
Specifications
| | |
| --- | --- |
| Detection gas | Carbon monoxide (CO) |
| Detection range | 0~1000ppm |
| Max range | 2000ppm |
| Sensitivity | 0.3~0.5µA/ppm |
| Resolution | <10ppb |
| Response time (T90) | < 30S |
| Load resistance(Recommended) | 33-100Ω (Recommended) |
| Output linearity | Linear |
| Stability (/month) | <10% |
| Zero drift (-20℃~40℃) | <±100ppb |
| Temperature range | -30℃~50℃ |
| Humidity range | 15%~90% RH |
| Pressure range | 80-120kPa |
| Life span | 2 years (in air) |
* The description and specifications might be changed without notice. Please contact us for the latest information before placing orders.
Technical Support:
Winsen provides professional consultation and service before and after sales. We will recommend the best fitting sensor for your demand. If you have any problem, don't hesitate to email us to sales@winsensor.com
Due to high volume of daily incoming emails and time zone difference, we may not be able to reply your emails immediately. But we will reply to your inquiry in 24 business hours.
LEADING GAS SENSING SOLUTION SUPPLIER
RELATED PRODUCTS