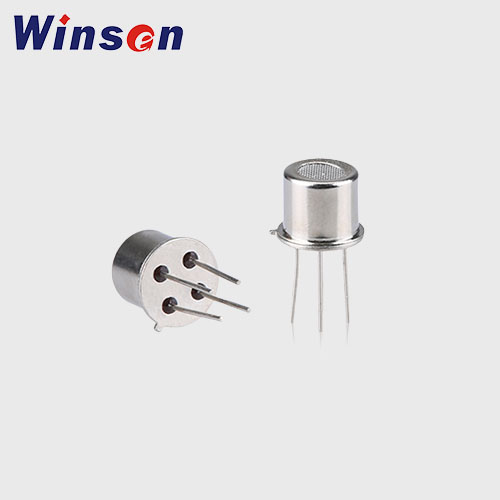 | | |
| --- | --- |
| Target: | toluene, methanal, benzene, alcohol, acetone &etc. |
| Model: | WSP2110 |
| Detection range: | 1~50ppm |
| Detection principle: | Semiconductor |
| Characteristics: | High sensitivity to organic gases such as toluene, benzene, methanal; quick response and recovery; low power consumption, simple detection circuit, good stability and long life. |
Get Price
Whatsapp
Description
WSP2110 VOC gas sensor adopts multilayer thick film manufacturing technology. The heater and metal oxide semiconductor material on the ceramic substrate of subminiature Al2O3 are fetched out by electrode down-lead, encapsulated in metal socket and cap. Conductivity of the sensor is affected by the concentration of target gas. The higher the concentration is, the higher conductivity of sensor gets. Users can adopt simple circuit to convert variation of conductivity into output signal corresponding to gas concentration.
Application
It is used in automatic exhaust device, air cleaner in domestic occasion for harmful gas detection.
Features
High sensitivity to organic gases such as toluene, benzene, methanal; quick response and recovery; low power consumption, simple detection circuit, good stability and long life.
Specifications
Model
WSP2110
Sensor Type
Semiconductor flat surfaced sensor
Standard Encapsulation
Metal Cap
Detection Gas
toluene, methanal, benzene, alcohol, acetone &etc.
Detection range
1~50ppm
Standard circuit
Loop voltage
VC
≤24V DC
Heating voltage
VH
5.0V±0.1V AC or DC
Load resistance
RL
Adjustable
sensor features in standard test condition
Heating resistance
RH
90Ω±10Ω(Room Tem.)
Heating consumption
PH
≤300mW
Surface resistance
RS
10KΩ~100KΩ(in 10ppm toluene)
Sensitivity
S
Rs(in air)/Rs(in 10ppm toluene)≥3
Concentration slope
α
≤0.6(R50ppm/R5ppm toluene)
Standard condition of test
Temperature, humidity
20℃±2℃;65%±5%RH
Standard test circuit
VC:5.0V±0.1V; VH:5.0V±0.1V
Warm-up time
Not less than120 hours
* The description and specifications might be changed without notice. Please contact us for the latest information before placing orders.
Technical Support:
Winsen provides professional consultation and service before and after sales. We will recommend the best fitting sensor for your demand. If you have any problem, don't hesitate to email us to sales@winsensor.com
Due to high volume of daily incoming emails and time zone difference, we may not be able to reply your emails immediately. But we will reply to your inquiry in 24 business hours.
LEADING GAS SENSING SOLUTION SUPPLIER
RELATED PRODUCTS