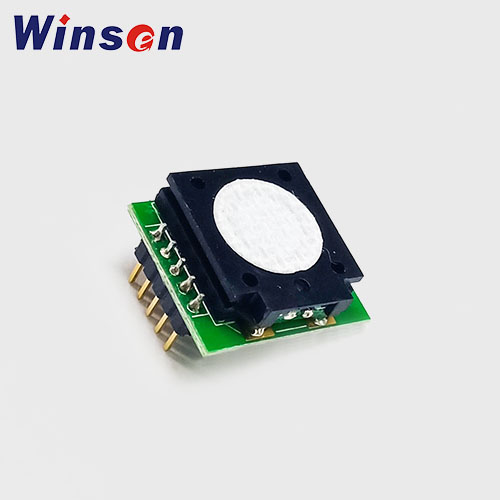 Target:
Alcohol
Model:
ZE31-C2H5OH
Detection range:
0~5 ppm
Detection principle:
Module, electrochemical
Characteristics:
Alcohol detector, vehicle-mounted detector
Size:
17.1x19.2x4.5mm
Working conditions:
Resolution ≤0.01ppm
Response time ≤60 seconds
Working life 2 years (In the air)
Get Price
Whatsapp
Description
The ZE31-C2H5OH electrochemical alcohol module is a general-purpose, miniaturized module. The electrochemical principle is used to detect the presence of C2H5OH in the air, which has good selectivity and stability. Built-in temperature sensor for temperature compensation; digital output and analog voltage output for easy use. ZE31-C2H5OH is a universal gas module designed and manufactured by combining proven electrochemical detection technology with sophisticated circuit design.
Application
Alcohol detector, vehicle-mounted detector
Features
High sensitivity, high resolution, low power consumption, long lifespan.
UART and analog voltage output.
Good stability and excellent anti-interference, temperature compensation, good linearity.
Specifications
Model No.
ZE31-C2H5OH
Target Gas
Alcohol
Interference Gases
CO, etc gas
Output Data
UART Output (3V electrical level)
Working Voltage
3.7~5.5V
Preheating Time
≤3min
Response Time
≤60 sec
Recovery Time
≤60 sec
Detection range
0~5 ppm
Resolution
≤0.01ppm
Operating Environment
Temperature: -20~50℃
Humidity: 15%-90%RH(no condensation)
Storage Temperature
0~25℃
Working Life
2 years (in air)
* The description and specifications might be changed without notice. Please contact us for the latest information before placing orders.
Technical Support:
Winsen provides professional consultation and service before and after sales. We will recommend the best fitting sensor for your demand. If you have any problem, don't hesitate to email us to sales@winsensor.com
Due to high volume of daily incoming emails and time zone difference, we may not be able to reply your emails immediately. But we will reply to your inquiry in 24 business hours.
LEADING GAS SENSING SOLUTION SUPPLIER
RELATED PRODUCTS