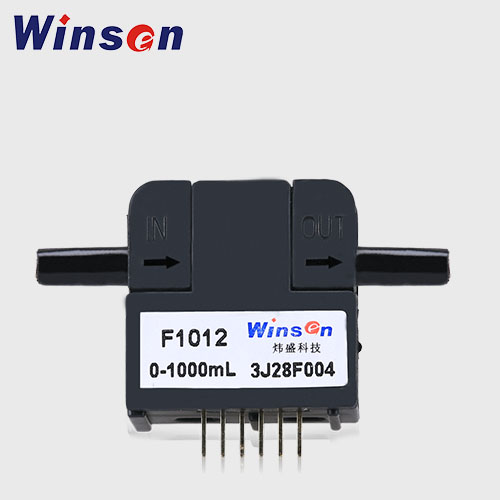 | | |
| --- | --- |
| Target: | Mass gas measurement and control in the flow channel |
| Model: | F1012 |
| Detection range: | 50、100、200、500、1000、2000sccm |
| Detection principle: | Principles of thermodynamics |
| Characteristics: | High accuracy, quick response, good repeatability |
---
F1012 Manual download
---
Get Price
Whatsapp
Description
F1012 micro flow sensor adopts thermodynamic principle to detect the gas flow, and it has high accuracy and good repeatability. The built-in temperature sensor makes the product has the function of professional temperature compensation calibration. At the same time, the output is linear analog voltage which is convenient to use.
Application
Industrial process control
Air and environment protection
Portable detector/meter

Air samplers/gas analyzers/anesthetics/gas leak detectors/environmental air monitor/particle counters/Lighter fire automatic adjustment equipment/gas chromatography...
Features
Latest MEMS Sensor chip technology
High accuracy, quick response, good repeatability
Detection micro flow accurately
It is calibrated completely and temperature compensated
Specifications
Model
F1012
Measuring Range①
50、100、200、500、1000、2000sccm②
Min
Typical
Max
Unit
Full Scale Output
4.90
5.00
5.10
V
Zero Output
0.96
1.00
1.04
V
Output Impedance
-
200
-
Ω
Working Voltage
7.0
10.0
14.0
V
Working Current
15
25
30
mA
Accuracy
-
±1.5
±2.5
%F.S
Repeatability
-
±0.3
±0.5
%F.S
Annual Drift③
-
±0.1
±0.5
%F.S
Pressure range④
-
-
200
kPa
Response Time
45
50
55
ms
Working Temp.⑤
-25
-
65
℃
Storage Temp.
-40
-
90
℃
Note:
①The measuring range within 50-2000sccm is available and regular measuring ranges such as 50、100、200、500、1000、2000sccm.
②SCCM means standard-state cubic centimeter per minute. Standard-state: gas temperature is 0℃ and pressure is 101.325 kPa.
③The testing environment is room temperature and clear air.
④The temperature compensation is for the tem. range of 0-50℃ and the compensation performance can't be ensured beyond the temperature range.
* The description and specifications might be changed without notice. Please contact us for the latest information before placing orders.
Technical Support:
Winsen provides professional consultation and service before and after sales. We will recommend the best fitting sensor for your demand. If you have any problem, don't hesitate to email us to sales@winsensor.com
Due to high volume of daily incoming emails and time zone difference, we may not be able to reply your emails immediately. But we will reply to your inquiry in 24 business hours.
LEADING GAS SENSING SOLUTION SUPPLIER
RELATED PRODUCTS